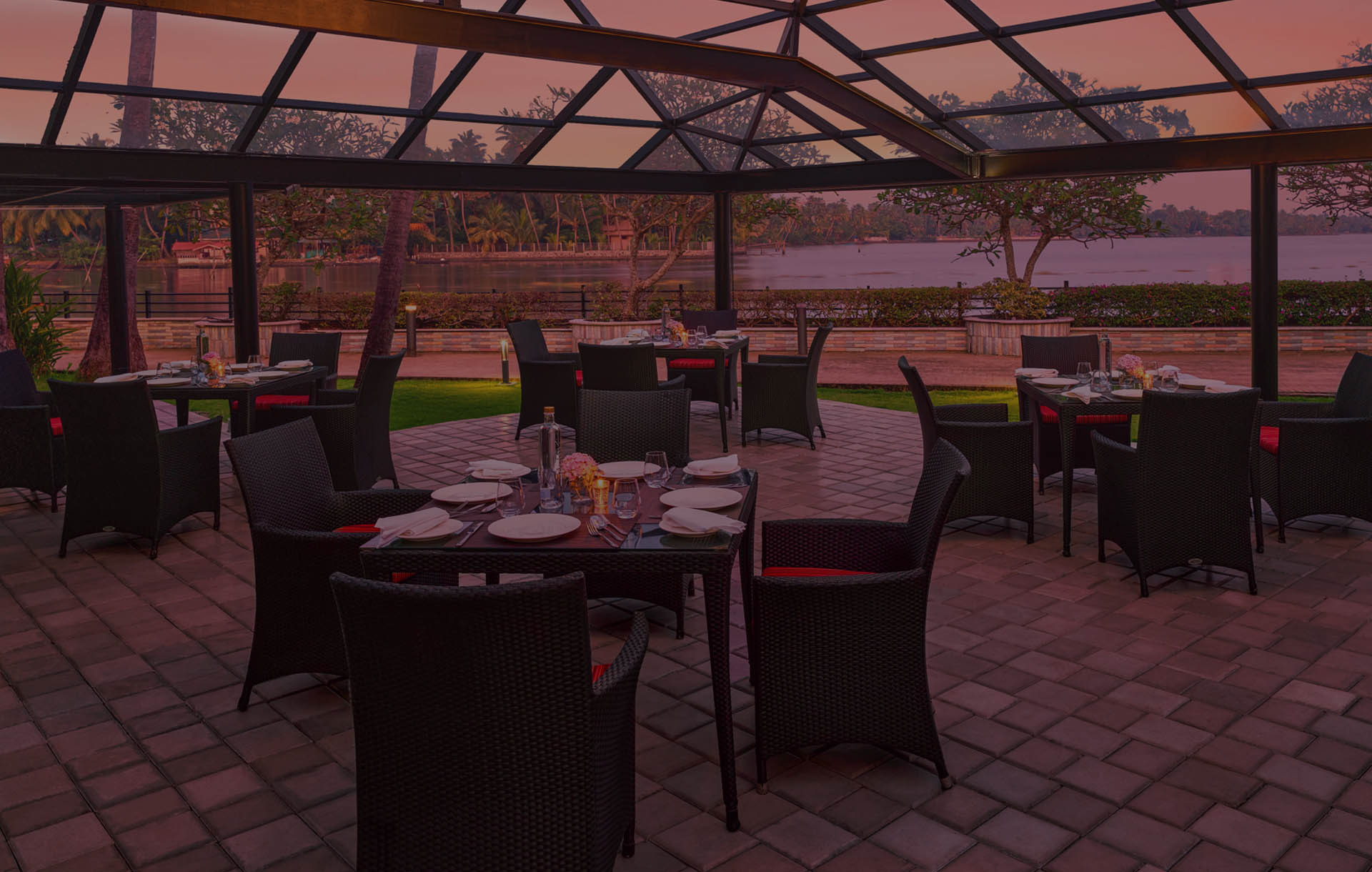 Maintaining the privacy of your information is important to Ramada Resort Kochi. This Privacy Policy describes Ramada Resort Kochi's current policy on how we collect and use the "Personal Information" that you provide through www.ramadakochi.com (the "Website"). Kindly read the entire policy carefully. By using the site and you providing us with information, you consent to the Privacy Policy.

Ramada Resort Kochi may revise this Privacy Policy from time to time to reflect changes in the law, Ramada Resort Kochi privacy practices, or the features on the Site. Any changes to our use of personal information will be reflected in such revised privacy policy as posted on this Site along with new effective date. Therefore, kindly review the Privacy Policy periodically to remain aware of Ramada Resort Kochi's current policies and practices.

Please note that this Privacy Policy is not a contract and does not create any legal rights or obligations.
Information that we collect
Personal Information collected through www.ramadakochi.com (the "Website") about you may include, but is not limited to: Your name, address, telephone numbers and fax numbers, Email address We also collect non Personal Information as described below.
Online Purchases/ Reservations
If you purchase Room nights/make reservation through www.ramadakochi.com(the "Website") you provide Personal Information such as name, address, email address and telephone number to us in order to complete the transaction.
Promotions & Contests
Ramada Resort Kochi occasionally sponsors promotions and contests to give members the opportunity to win various prizes. We may combine Personal Information from promotions and contests with non-Personal Information collected through cookies and other means (described below).
Surveys
Ramada Resort Kochi occasionally sponsors optional customer surveys to improve our services. In the surveys, you provide personal information and answers to survey questions, both of which we may combine with data collected by cookies and through other means specified in this policy.
Automatic Collection
When you use the Site our servers may automatically collect non-personal information as you browse our Site. This non- personal Information may include your internet protocol (IP) address, IP address of your referral site, country, language, browser type, domain name, access time and duration of your session.
Cookies
Ramada Resort Kochi also collects information by using technologies and methodologies that enable tracking, such as "cookies." Cookies are small text files that are placed on your computer when you visit our Site and are stored on your computer by your web browser. These technologies allow us to recognize your computer so that we can display advertising that may be of interest to you. Cookies can only be read by the domain that placed them on your computer. As described in more detail below, you can change your browser settings to refuse to accept cookies. However, if you change your browser settings to refuse to accept cookies, we cannot tailor the Site to meet your needs to the same degree.
How we use the Personal Information/ Non Personal Information you provide
Ramada Resort Kochi uses Personal Information collected in conjunction with registration or purchases on our Site to complete transactions, to facilitate payment and to otherwise fulfill requests for services. We also use your Personal Information to provide you with a more effective customer experience. In order to do this, Ramada Resort Kochi may process your Personal Information or combine it with other information that we collect or that is publicly available.
Group Companies, Partners, Subsidiaries and Third Parties
Ramada Resort Kochi may share your Personal Information with our Group Companies, partners and wholly-owned subsidiaries of Ramada Resort Kochi. From time to time, we may engage third parties to process your Personal Information on our behalf. We may also share your Personal Information for the purpose of providing you with services, information or promotional opportunities that may be of interest to you.
Emails
Ramada Resort Kochi uses email addresses to deliver information relevant to our customers. The following are some examples of information: Confirmation Vouchers, route maps, special promotional offers, important travel related information and updates, reservation confirmations andsurveys. We may also contact you via email for a number of other administrative and marketing purposes. As an enrollee in a contest or promotion, survey participant, or purchaser of room nights on our Site, you occasionally will receive emails about, without limitation, special offers, new products and other news items. Any promotional email sent to you by Ramada Resort Kochi also contains a link allowing you to opt-out of any future emails.
Surveys
Ramada Resort Kochi may use Personal Information as well as the answers you provide to survey questions in combination with information collected from cookies and through other means specified in this policy to improve our services to you. We may contract with third parties to perform surveys. We may use Personal Information that you provide in filling out any surveys to send you information about, without limitation, contests or promotions, special offers, and other information we feel may be of interest to you.

Ramada Resort Kochi uses Personal Information you provide us in connection with any contest or promotion to notify you if you are a winner and to send you information about, without limitation, future contests and promotions, special packages, and other information, which, we feel, may be of interest to you. We may also use Personal Information derived from contests or promotions in any of the other ways described by this Privacy Policy.
Cookies
Cookies help establish a user session and allow our server to correctly provide Site users with the appropriate information, advertisements and services. We use cookies to ensure that you obtain the information you request and to authenticate your authority to access the Site. We also use cookies to track the usage of our Site in order to improve the Site according to our customers' needs. Additionally, cookies allow us to pre-fill certain data fields with your information when you visit the Site to make a purchase, making the process more convenient for you.

Ramada Resort Kochi may enter into agreements with third party companies to serve advertisements and information to Site users. Ramada Resort Kochi may use its cookies when working with these companies to provide them information regarding use of the Site or to serve you advertisements when you visit our Site. These companies may use the non personal Information about your visit to make available goods and services of interest to you. You may change the settings on your Internet browser to reject cookies at any time, but it will make your use of the Site less convenient.
Domain Names and Internet Protocol Addresses
We aggregate Non Personal Information such as domain names and IP addresses to measure the number of visits, average time spent on the Site, pages viewed and similar Site usage information in order to improve the Site's content and to better meet our customers' needs and preferences.
Law Enforcement/Legal Processes/Other Uses
Ramada Resort Kochi may disclose Personal Information to comply with the law or a court order, subpoena or other legal process, as requested by a governmental or law enforcement authority. We may also disclose Personal Information when we in good faith believe that it is either necessary to protect our property or is otherwise necessary. Ramada Resort Kochi may also disclose Personal Information to any of its sister concerns, or to any entity with which it merges or to which it sells any assets.
Minors online privacy policy
We do not knowingly collect Personal Information from minors (according to applicable laws). If such minor has provided us with Personal Information without parental or guardian consent, the parent or guardian may email us reservations@ramadacochin.com, and we will remove the concerned minor Personal Information from any promotional lists or databases.
Privacy Policy relate to other websites
This Privacy Policy covers only "www.ramadakochi.com" (The website) and does not cover any other Site. While we make every effort to protect the Personal Information you provide to us, we do not control the policies of other sites (including those we may link to) and the site owners' use of Personal Information you provide to them.
Prevention of unauthorized access of your Personal Information
To prevent unauthorized access, disclosure and improper use of your Personal Information, and to maintain data security, we have established appropriate physical, electronic, and managerial safeguards to protect the Personal Information we collect. Although Ramada Resort Kochi takes reasonable steps to safeguard and to prevent unauthorized access to your Personal Information, it cannot be responsible for the acts of those who gain unauthorized access and Ramada Resort Kochi make no warranty that we will prevent unauthorized access to your Personal Information.
TERMS OF USE
Introduction
This website is operated by Ramada Resort Kochi. The terms "we", "us", and "our" refer to Ramada Resort Kochi. The use of our website is subject to the following terms and conditions of use, as amended from time to time (the "Terms"). The Terms are to be read together by you with any terms, conditions or disclaimers provided in the pages of our website. Please review the Terms carefully. The Terms apply to all users of our website, including without limitation, users who are browsers, customers, merchants, vendors and/or contributors of content. If you access and use this website, you accept and agree to be bound by and comply with the Terms of Use and our Privacy Policy. If you do not agree to the Terms of Use or our Privacy Policy, you are not authorized to access our website, use any of our website's services or place an order / make a reservation on our website.
Conditions
Trade Marks
The Website contains trade and service marks and devices (including the word 'Ramada Resort Kochi') and other valuable trade or service marks owned by Ramada Resort Kochi or licensed to Ramada Resort Kochi to distinguish its services and products. These trade and service marks and related intellectual property are protected from copying and simulation under national and international laws and may not be reproduced or copied without the express prior written consent of Ramada Resort Kochi.

Without limitation, you must not use any of the said trade or service marks:
in or as the whole or part of your own trade marks;
in connection with activities, products or services which are not undertaken or provided by Ramada Resort Kochi;
in a manner which may be confusing, misleading or deceptive; or
in a manner that disparages Ramada Resort Kochi or its information, products or services (including this Website).
Copyright
The information, text, graphics, images, sounds, links and all other information and software published or otherwise contained in the Website ("Information") are either owned exclusively by Ramada Resort Kochi or licensed by Ramada Resort Kochi and except as specifically provided in these Conditions may not be copied, distributed, displayed, reproduced or transmitted, in any form or by any means whether electronic, mechanical, photocopying, recording, or otherwise, without the prior written approval of Ramada Resort Kochi. Without limitation you may not, without such approval from Ramada Resort Kochi, create derivative works from any part of the Website or commercialise any Information, products or services obtained from any part of the Website. Information procured from a third party may be the subject of copyright owned by that third party.
Website Use
You agree to use our website for legitimate purposes and not for any illegal or unauthorized purpose, including without limitation, in violation of any intellectual property or privacy law. By agreeing to the Terms, you represent and warrant that you are at least the age of majority in your country or state of residence and are legally capable of entering into a binding contract.

You agree to not use our website to conduct any activity that would constitute a civil or criminal offence or violate any law. You agree not to attempt to interfere with our website's network or security features or to gain unauthorized access to our systems.

You agree to provide us with accurate personal information, such as your email address, mailing address and other contact details in order to complete your order or reservation you as needed. You agree to promptly update your account and information. You authorize us to collect and use this information to contact you in accordance with our Privacy Policy.
General Conditions
We reserve the right to refuse service to anyone, at any time, for any reason. We reserve the right to make any modifications to the website, including terminating, changing, suspending or discontinuing any aspect of the website at any time, without notice. We may impose additional rules or limits on the use of our website. You agree to review the Terms regularly and your continued access or use of our website will mean that you agree to any changes.

You agree that we will not be liable to you or any third party for any modification, suspension or discontinuance of our website or for any service, content, feature, product or reservation offered through our website.
Products and Services
All purchases through our website are subject to product / room availability. We may, in our sole discretion, limit or cancel the quantities / inventory offered on our website or limit the sales of our products / reservations or services to any person, household, geographic region or jurisdiction.

Prices for our products / reservations are subject to change, without notice. Unless otherwise indicated, prices displayed on our website are quoted in Indian Rupees.

We reserve the right, in our sole discretion, to refuse orders / reservations, including without limitation, orders / reservations that appear to be placed by distributors or resellers. If we believe that you have made a false or fraudulent orders / reservations, we will be entitled to cancel the orders / reservations and inform the relevant authorities.

We do not guarantee the accuracy of the Colour, Design, or Quality Standards of the rooms / products / services on our website. We have made efforts to ensure the Colour, Design, or Quality Standards of our rooms / products / services are maintained as accurately as possible.
Links to Third-Party Websites
Links from or to websites outside our website are meant for convenience only. We do not review, endorse, approve or control, and are not responsible for any sites linked from or to our website, the content of those sites, the third parties named therein, or their products and services. Linking to any other site is at your sole risk and we will not be responsible or liable for any damages in connection with linking. Links to downloadable software sites are for convenience only and we are not responsible or liable for any difficulties or consequences associated with downloading the software. Use of any downloaded software is governed by the terms of the license agreement, if any, which accompanies or is provided with the software.
User Comments, Feedback, and Other Submissions
You acknowledge that you are responsible for the information, profiles, opinions, messages, comments and any other content (collectively, the "Content") that you post, distribute or share on or through our website or services available in connection with our website. You further acknowledge that you have full responsibility for the Content, including but limited to, with respect to its legality, and its trademark, copyright and other intellectual property ownership.

You agree that any Content submitted by you in response to a request by us for a specific submission may be edited, adapted, modified, recreated, published, or distributed by us. You further agree that we are under no obligation to maintain any Content in confidence, to pay compensation for any Content or to respond to any Content.

You agree that you will not post, distribute or share any Content on our website that is protected by copyright, trademark, patent or any other proprietary right without the express consent of the owner of such proprietary right. You further agree that your Content will not be unlawful, abusive or obscene nor will it contain any malware or computer virus that could affect our website's operations. You will be solely liable for any Content that you make and its accuracy. We have no responsibility and assume no liability for any Content posted by you or any third-party.

We reserve the right to terminate your ability to post on our website and to remove and/or delete any Content that we deem objectionable. You consent to such removal and/or deletion and waive any claim against us for the removal and/or deletion of your Content.
Your Personal Information
Please see our Privacy Policy to learn about how we collect, use, and share your personal information.
Errors and Omissions
Please note that our website may contain typographical errors or inaccuracies and may not be complete or current. We reserve the right to correct any errors, inaccuracies or omissions and to change or update information at any time, without prior notice (including after an order has been submitted). Such errors, inaccuracies or omissions may relate to product description, pricing, promotion and availability and we reserve the right to cancel or refuse any order / reservations placed based on incorrect pricing or availability information. We do not undertake to update, modify or clarify information on our website, except as required by law.
Disclaimer and Limitation of Liability
You assume all responsibility and risk with respect to your use of our website, which is provided "as is" without warranties, representations or conditions of any kind, either express or implied, with regard to information accessed from or via our website, including without limitation, all content and materials, and functions and services provided on our website, all of which are provided without warranty of any kind, including but not limited to warranties concerning the availability, accuracy, completeness or usefulness of content or information, uninterrupted access, and any warranties of title, non-infringement, merchantability or fitness for a particular purpose. We do not warrant that our website or its functioning or the content and material of the services made available thereby will be timely, secure, uninterrupted or error-free, that defects will be corrected, or that our websites or the servers that make our website available are free of viruses or other harmful components.

The use of our website is at your sole risk and you assume full responsibility for any costs associated with your use of our website. We will not be liable for any damages of any kind related to the use of our website.

In no event will we, or our affiliates, our or their respective content or service providers, or any of our or their respective directors, officers, agents, contractors, suppliers or employees be liable to you for any direct, indirect, special, incidental, consequential, exemplary or punitive damages, losses or causes of action, or lost revenue, lost profits, lost business or sales, or any other type of damage, whether based in contract or tort (including negligence), strict liability or otherwise, arising from your use of, or the inability to use, or the performance of, our website or the content or material or functionality through our website, even if we are advised of the possibility of such damages.

Certain jurisdictions do not allow limitation of liability or the exclusion or limitation of certain damages. In such jurisdictions, some or all of the above disclaimers, exclusions, or limitations, may not apply to you and our liability will be limited to the maximum extent permitted by law.
Indemnification
You agree to defend and indemnify us, and hold us and our affiliates harmless, and our respective directors, officers, agents, contractors, and employees against any losses, liabilities, claims, expenses (including legal fees) in any way arising from, related to or in connection with your use of our website, your violation of the Terms, or the posting or transmission of any materials on or through the website by you, including but not limited to, any third party claim that any information or materials provided by you infringe upon any third party proprietary rights.
Entire Agreement
The Terms and any documents expressly referred to in them represent the entire agreement between you and us in relation to the subject matter of the Terms and supersede any prior agreement, understanding or arrangement between you and us, whether oral or in writing. Both you and we acknowledge that, in entering into these Terms, neither you nor we have relied on any representation, undertaking or promise given by the other or implied from anything said or written between you and us prior to such Terms, except as expressly stated in the Terms.
Waiver
Our failure to exercise or enforce any right or provision of the Terms will not constitute a waiver of such right or provision. A waiver by us of any default will not constitute a waiver of any subsequent default. No waiver by us is effective unless it is communicated to you in writing.
Headings
Any headings and titles herein are for convenience only.
Severability
If any of the provisions of the Terms are determined by any competent authority to be invalid, unlawful or unenforceable, such provision will to that extent be severed from the remaining Terms, which will continue to be valid and enforceable to the fullest extent permitted by law.
Governing Law
Any disputes arising out of or relating to the Terms, the Privacy Policy, use of our website, or our products or services offered on our website will be resolved in accordance with the laws of INDIA. Any disputes, actions or proceedings relating to the Terms or your access to or use of our website must be brought before the courts of Kochi, Kerala State, INDIA and you irrevocably consent to the exclusive jurisdiction and venue of such courts.
Questions or Concerns
Please send all questions, comments and feedback to us at reservations@ramadacochin.com
Hotel Reservations
The reservations feature of the Website is provided solely to assist customers in determining the availability of travel related services and products and to make legitimate reservations and for no other purpose.

You warrant that you are at least 18 years of age, possess the legal authority to enter into the legal agreement constituted by your acceptance of these Conditions and to use the Website in accordance with such Conditions.

You agree to be financially responsible for your use of the Website including without limitation for all reservations made by you or on your account for you, whether authorized by you or not. For any reservations or other services for which fees may be charged, you agree to abide by the terms or conditions of supply including without limitation payment of all moneys due under such terms or conditions.

The Website contains details of hotel charges and room rates (including any available special offers) for hotels and resorts owned or managed by Ramada Resort Kochi.

Hotel reservation terms and conditions of booking are set out on the Website and payment will be in accordance with the procedure set out in such terms and conditions.

No contract will subsist between you and Ramada Resort Kochi or any of its affiliates in respect of any services or products offered through the Website unless and until Ramada Resort Kochi accepts your order by e-mail or automated confirmation through the Website confirming that it has accepted your reservation, booking or order and any such contract shall be deemed to incorporate the hotel reservation terms and conditions of booking. Any other relevant terms and conditions relating to particular services or products are set out in the Website.

You undertake that all details you provide to in connection with any services or products which may be offered by Ramada Resort Kochi on the Website (including hotel room reservations) will be correct and, where applicable, the credit card which you use is your own and that there are sufficient funds to cover the cost of any services or products which you wish to purchase. Ramada Resort Kochi reserves the right to obtain validation of your credit card details before providing you with any services or products.

Product prices listed on the website are current. While every care has been taken to ensure that the prices are accurate, errors in data entry and updation may occur. We reserve the right to cancel the order / reservation in case a transaction has been made where the price indicated was not the correct price. In the rare event that happens, we will give a full refund of all money received from the customer.
Security & Non Confidentiality
Electronic transmissions of data including the Internet are public media and any use of such media is public not private.

Information related to or arising from such use is either public or the property of those collecting the information and not personal or private information.

Ramada Resort Kochi does not warrant and cannot ensure the security or confidentiality of any information which you transmit to Ramada Resort Kochi. Accordingly, any information which you transmit to Ramada Resort Kochi is transmitted at your own risk.
Termination of Access
If you breach any of these Conditions your license to use the Website will terminate immediately without the necessity of any notice being given to you.

Otherwise access to the Website may be terminated at any time by Ramada Resort Kochi without notice.

The provisions of these Conditions excluding, limiting and disclaiming the liability of Ramada Resort Kochi will nevertheless survive any such termination.
General
Ramada Resort Kochi does not accept any liability for any failure by Ramada Resort Kochi to comply with these Conditions where such failure is due to circumstances beyond its reasonable control.

If Ramada Resort Kochi waives any rights available to it under these Conditions on one occasion, this does not mean that those rights will automatically be waived on any other occasion.

If any of these Conditions are invalid, unenforceable or illegal for any reason, the remaining Conditions shall nevertheless continue in full force.

You are completely responsible for all charges, fees, duties, taxes and assessments arising out of the use of the Website.